One of the great fishing Meccas of North America. A must visit for any angler of age or skill level.
I will try and let this be a mostly fish porn post since this has been one hell of a fishing week and I only took 500 pictures during the week.
How It All Started
I am fortunate to know Karry and Bill Batson of Rainshadow Forecast (and it doesn't hurt to have worked with Bill's sister for 7 years at the Wild Animal Park). One of their mutual friends also is a native on the Quinault Indian reservation and has been trying to get me up there fishing with him. I finally decided to pull the trigger in January and get everything put together to pull off this trip. I asked Sasquatch (Steve) to join me in chance that he might meet up with old family living in the rainforest. I hear the Sasquatches are thick up there!
We got our tickets 8 months in advance and started prepping immediately. My wife thought I was crazy to start getting ready so early, but before you knew it…. it was here!
Day 1
We arrived in SeaTac airport by noon and grabbed our rental van. We were limited to what we could get since we had a good amount of gear and had to also squeeze in a giant.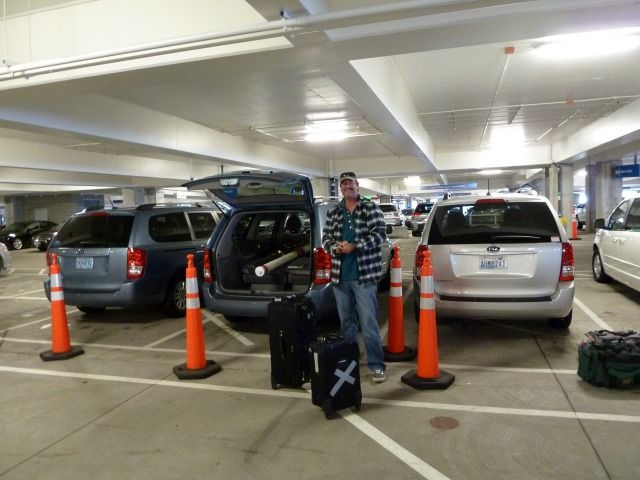 Our first stop, was the Shop! Karry said stop on over so we could see the operation. They were working on Saturday, but had to QC a new shipment of blanks that came in. They test everyone to make sure it passes their quality tests first before selling them to any customers.
We met up with Bill and Karry and got the tour of the shop! What a killer place and a great group of people that work here!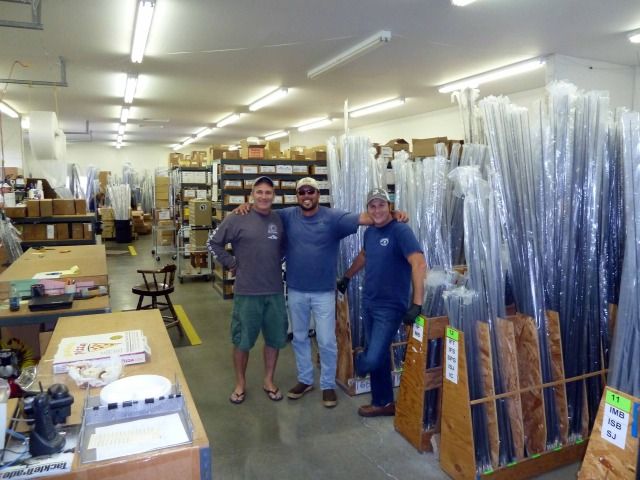 Bill's personal custom wrapped collection. Most of this gear has had certain parts of each rod wrapped and customized from artisan's from all over the world!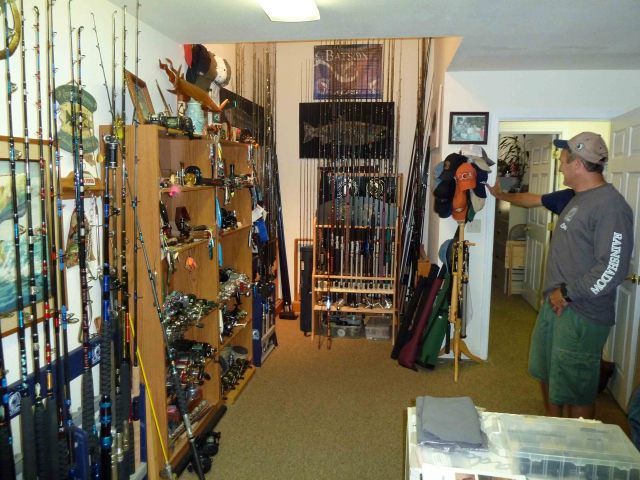 Just the custom handmade BOX for this rig was $2,500!!!!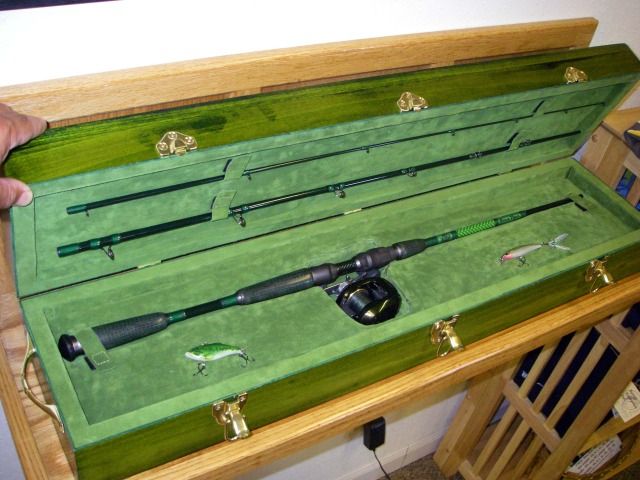 This is one of the first rods his dad wrapped and is protected under lock and key. The beginning of Rainshadow Forecast!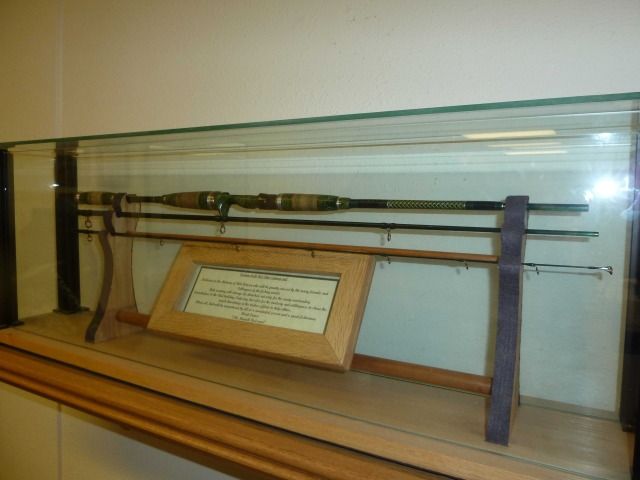 We took off from the shop and went to Karry's pad to set up for 2 days of Salmon fishing. It wasn't long of a drive, only about a mile down one street! On the way, we passed this land shark!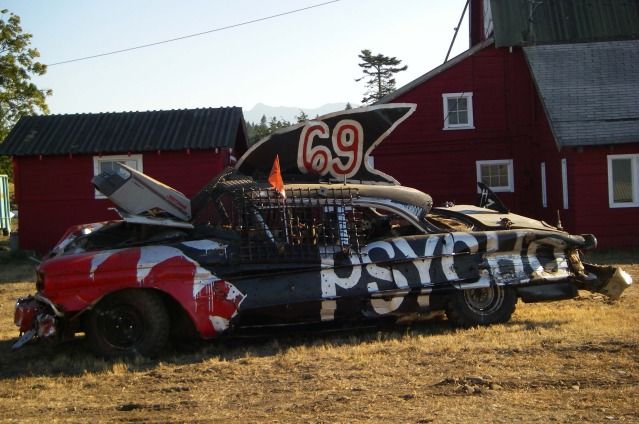 At the house of the Rainshadow Fish Whisperer.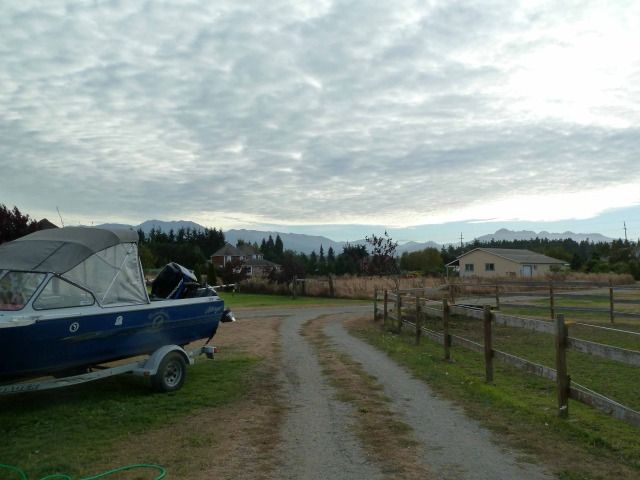 Showing us some of the strange gear they use for the deeper denizens of the area.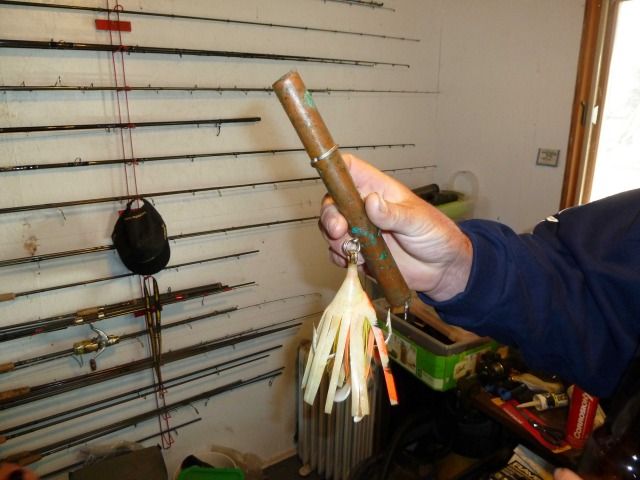 We finally got set up and headed to our Cheap Motel location in Sequim.


You know it's good when you are right across the street from this!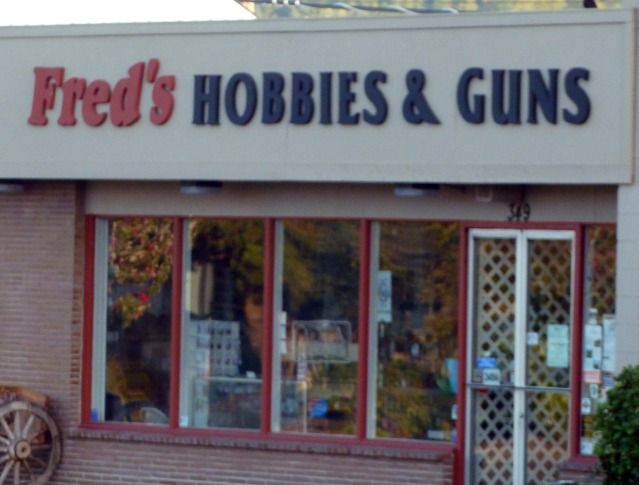 Day 2
We loaded up and headed to Port Angeles to launch the boat before first light. Things started clear…


But that didn't last long as the heavy fog bank rolled in and swallowed us!
Karry had to train us on downrigger operation since neither one of us knew the first thing about these things. It wasn't long before we got a groove on and were operating them like second nature. There are a lot of nuisances and tricks to give yourself the edge which apparently many trollers just ignore or don't deal with.
Today was the last day of Hatchery fish only. Tomorrow starts the wild harvest, so we had to weed through all of the Wild ones to get our limit of six without adipose fins.
I was on the board first with this big Hook Jaw and it was a hatchery fish! Hell yeah!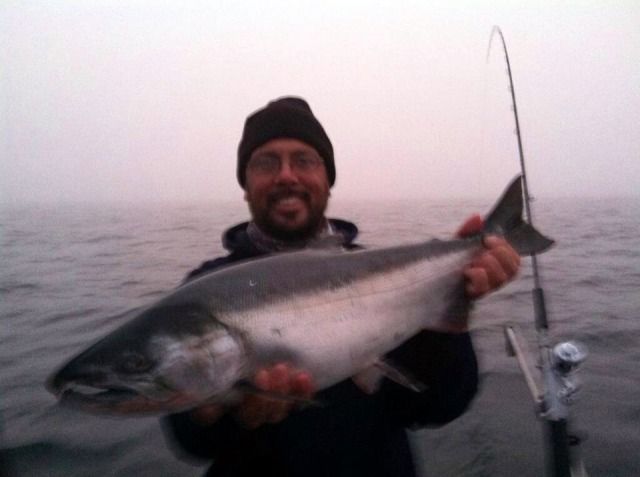 All of the fish in the Port Angeles area are usually 6-15 pounds. You have to go out into the "Big Ocean" in order to get the HUGE silvers, but due to the conditions, we stayed in the area and found out limit of fish in a few hours. All salmon fishing up here is barbless hook, so releases were nice and easy. So were the unbuttoned hawgs!

Chum Salmon!


Silvers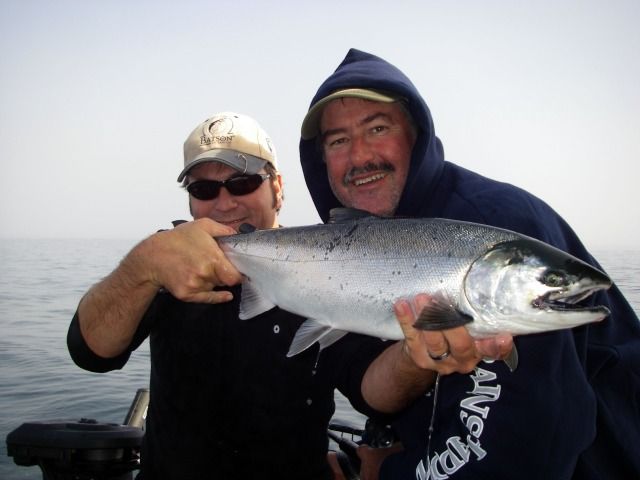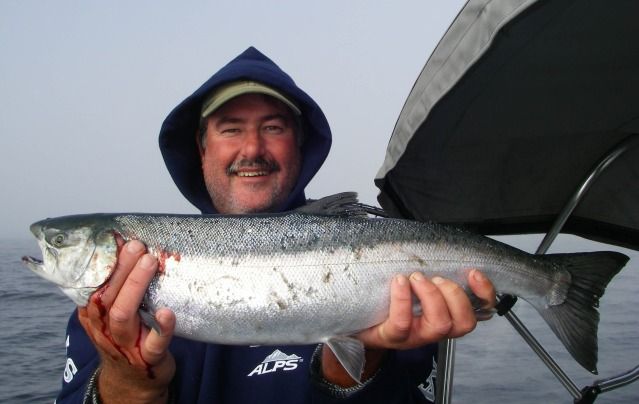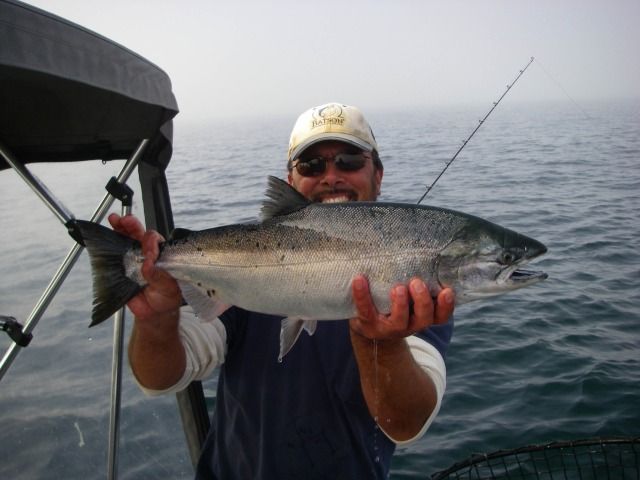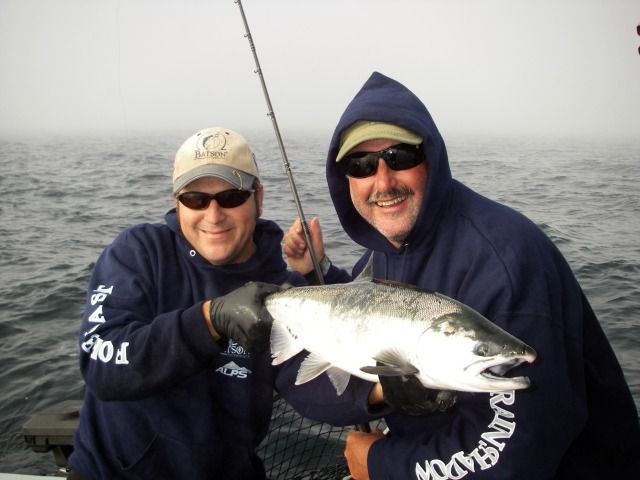 Steve and I also dragged a bunch of smolts around. This one happened to be a King and you could tell it was from the gassy smell on your hands that the silver's wouldn't have.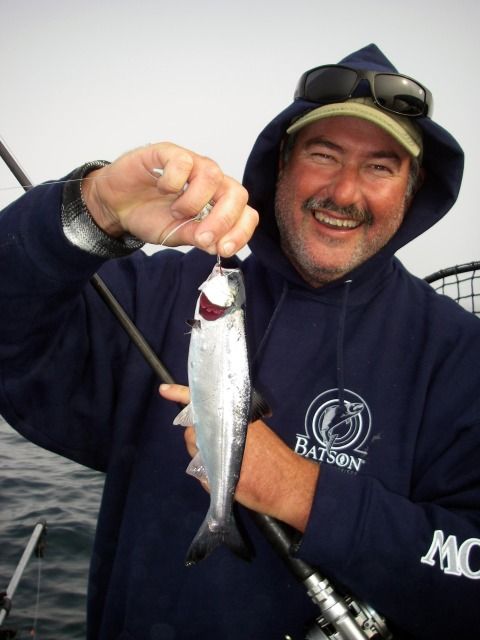 We caught about 25-30 fish before we finally got our 6 hatchery fish and called it the day!

We were also fishing in the shipping channel area, so in the fog, it was scary hearing the loud fog horns of monster ships sailing by. All you would see is a giant wake hitting you to remind you how close they are!
When the fog cleared, this is what was buzzing you in the blindness!!!!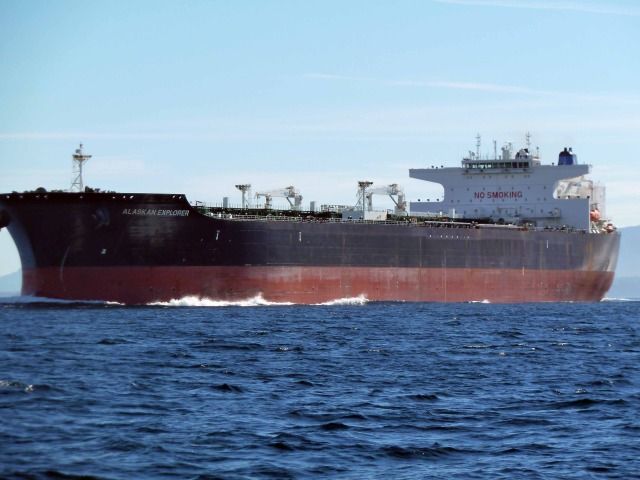 Day 2, and I added 3 more species to my list. Silver, King and Chum! (The Chum salmon was far the superior fighter of the 3 we caught today)
Day 3
Much of the same except that we could harvest the wild salmon we catch! One thing is for certain, they have salmon cards much like the lobster cards so we had to be vigilant in keeping our catch recorded!

This is called "Scrambled Eggs" up there. When the bait on the screen scatters, that means the salmon are feeding hard and a bite will happen in seconds!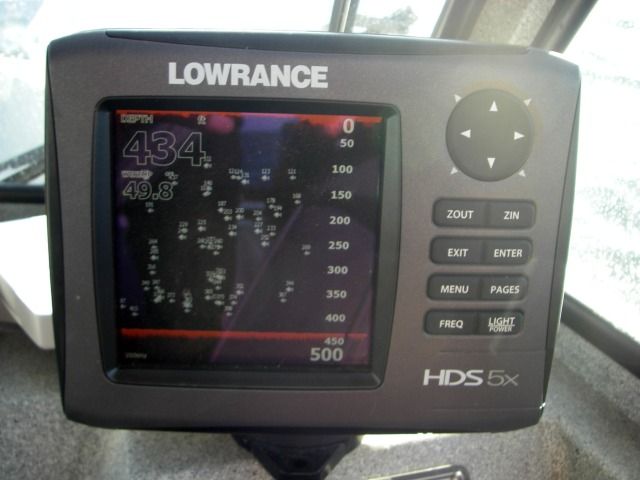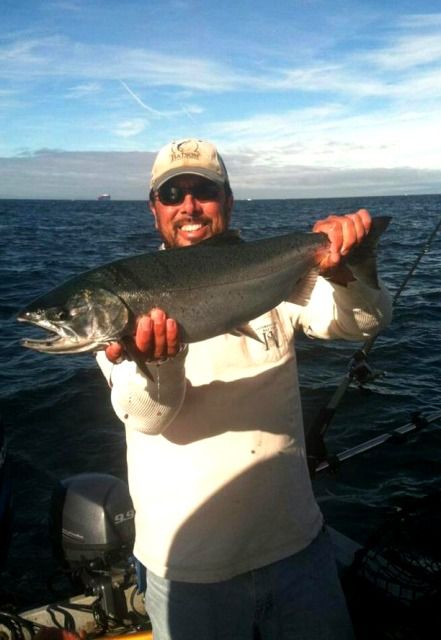 We got our limit of fish and headed back to clean the boat, filet/vacuum seal the salmon and prep/cure the eggs for the river tomorrow.
While cleaning the fish, Karry and I grabbed a piece of salmon sashimi. All of a sudden, we heard Steve say "Give me one of those"! WHAT!?!? This man don't eat fish?!?!?
He was so stoked, he decided to try it! Way to Rally Steve!!!!


Time to prep the eggs for its 2 day cure.
It was quite the process, but it was fun getting to help and get them ready.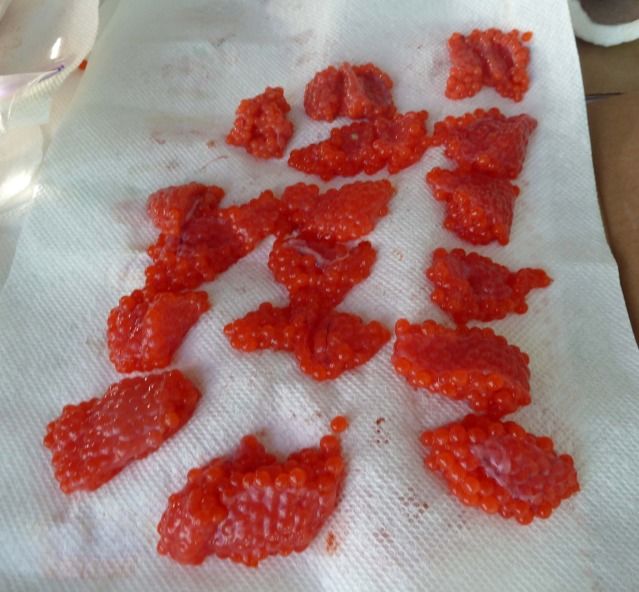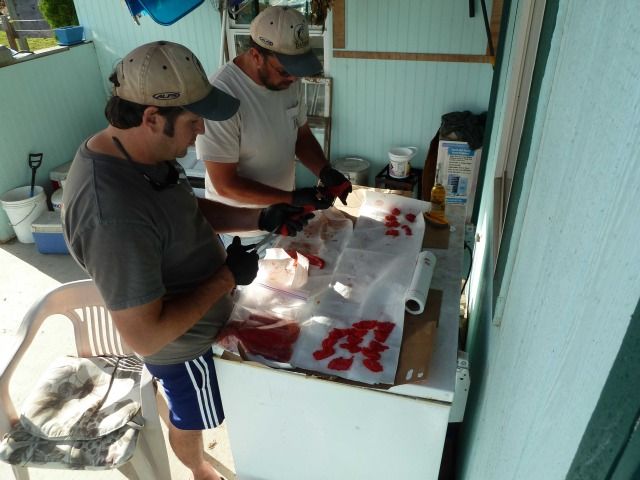 We easily got 50 fish the past 2 days and it was fun learning the in and outs of trolling, but I was ready for some river and lake fishing!
Day 4
We took a road trip looking to pull over at any lake or body of water we came around. The rivers were super low and probably the lowest they've been in 30 years due to the lack of rain. We just decided to drive and stop somewhere to give it a shot on our own and see what happens.
We also passed a place to stay for some of the Gooligans on this board if you are ever in the area!


Up until today, we've only been using their equipment. I'm afraid I've been spoiled to use my junk since the Rainshadow gear was just leaps and bounds over the gear I brought! I definitely know what I will be switching to as I upgrade me gear!
Road Trip!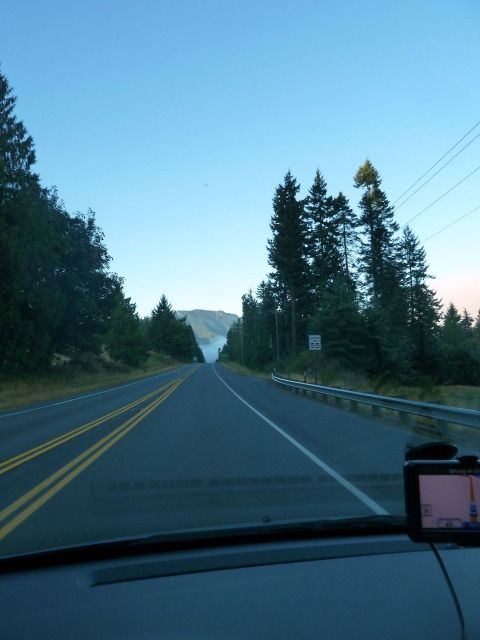 We make a few stops, but have generally been putting our time in casting in different waters looking for something to hit the artificials.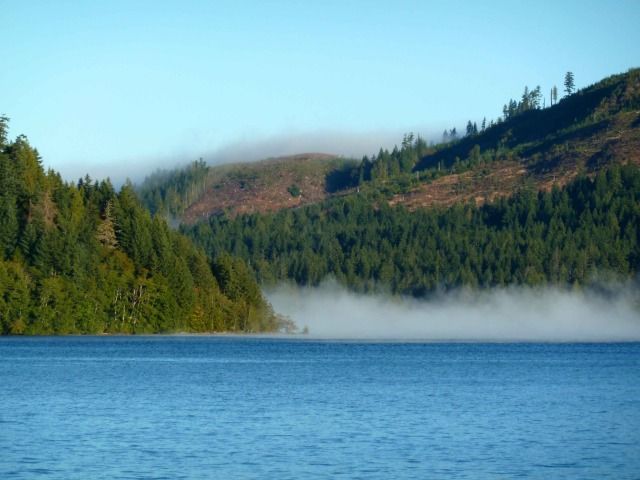 A stop here and a stop there for some beautiful scenery! You didn't have to drive far before you hit new bodies of water to test out.


We were ready to pack it in when I finally get a taker! A nice little rainbow but had to take a hand shot since he went wandering looking for fish.

A Kokanee is what he inhaled!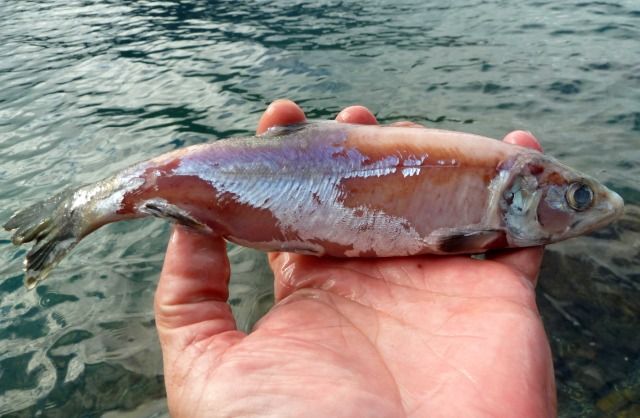 The crayfish then came out to eat him!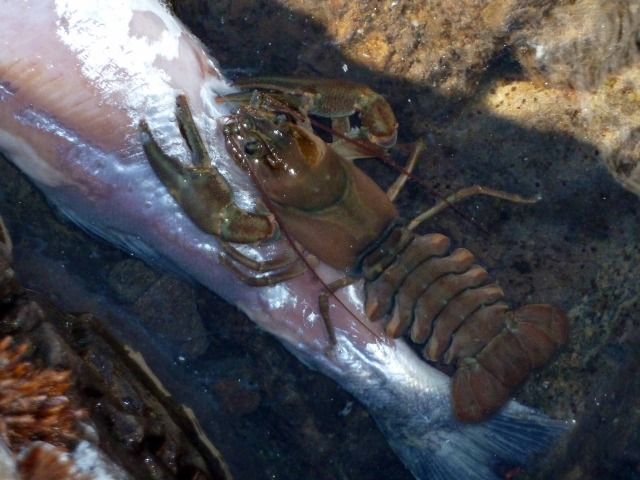 Steve then hooked a monster, but the barbless hook popped loose on him! Ughhh! It was definately a bigger grade fish that unbuttoned! We decided to pack it in since we were headed to Hoquiam in the morning to fish the Quinalt river on the reservation with my buddy Frank. On the long journey over, we figured we stop back at the lake in the morning for a few hours and try to get Steve some retribution since he was down 3-0
Day 5
We hit the road at dark and headed west. On the way we stopped for a few hours to beat down the lake if possible.
My second cast, I caught a 16″ cut throat and thought that was a great way to start the morning.
Steve wandered off again, but picked up 3 nice trout before wandering back. Just before he got back I got WHALLOPPED by a monster hit! This thing was screaming my 20# (yes, I was using 20# line). It may have been one of the most fun freshwater fights I've had and turned out to be my biggest trout ever! This Bow was about 34″ long, thick as my thigh at the belly and was a 10+ pound class fish! That's a way to Rally!
I had to put the camera on timer (on the rock) to take a pic, but thankfully it came out great!!!
After it was revived and let go, Steve saw the release and ran over. On the first cast he caught this hefty Hook Jaw Cut Throat!
With Steve catching 4 nice trout and me with 2, we decided to get on the road since we had a long a$$ trip to Hoquiam. It was unbelievable scenery along the way and quite the journey.
We travelled through Forks, which was the last place to stop and eat for a hundred miles afterwards!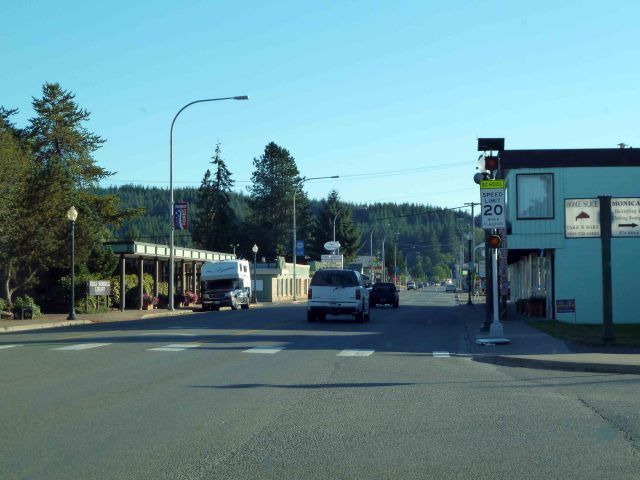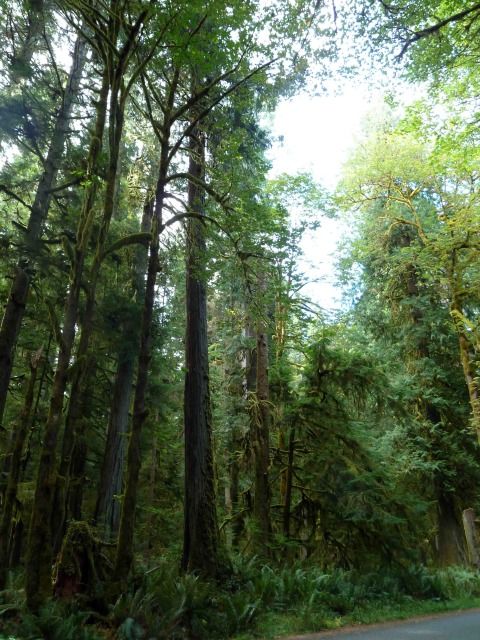 We hit the coast and took a short break at Ruby Beach. It looked like the surf perch fishing would be awesome, but we still had a long drive down the coast still to go.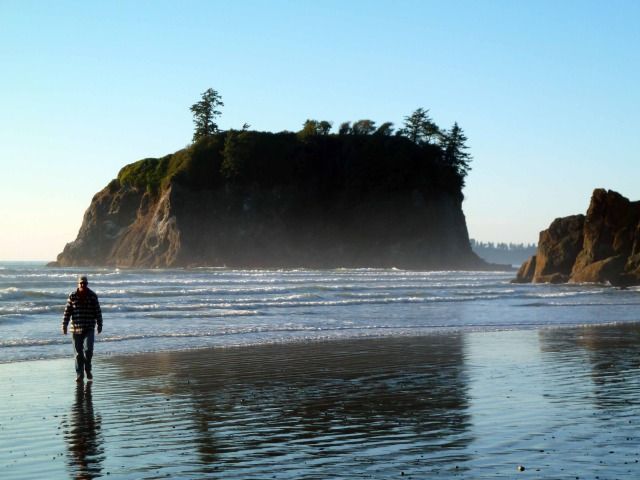 We got to Hoquiam…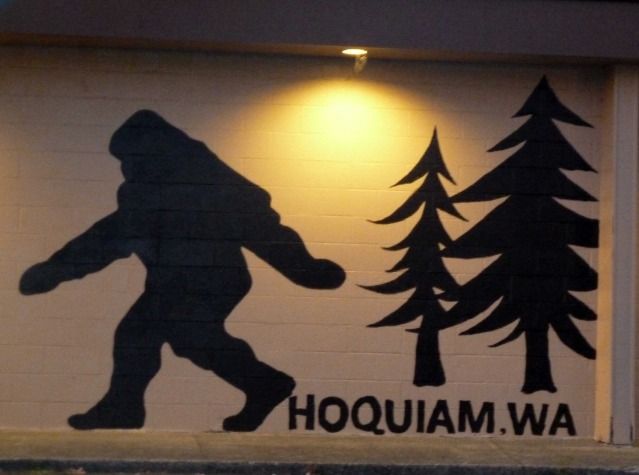 … and stopped for some food.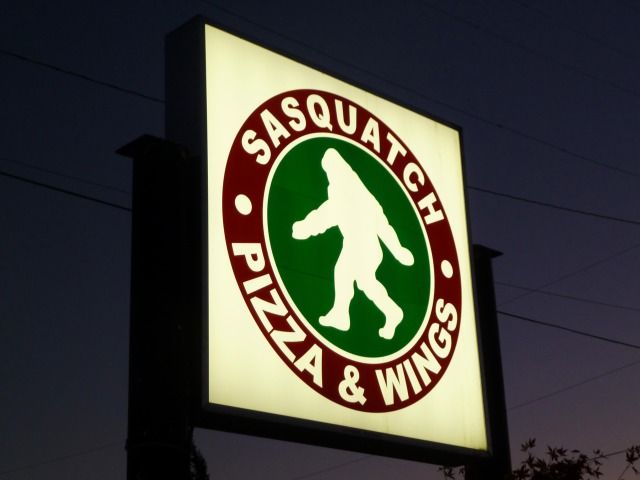 We wanted to hit the sack and get some rest for our river trip tomorrow, but Frank called us up and dragged us to the bar. We called it early, but found out my buddy is a professional drinker for a living and I'll just leave it at that!
Day 6
Thankfully we survived towing the drift boat through the reservation as Frank filled us in on the evening he had after we left. We got to the pickup spot and then all crammed into his little S-10 cab… 6′ Frank, 6-1″ me and 6-7″ Steve! DOH!
It was supposed to be an 8 miles drift and be done in 6 hours, but the river was so low and it was really like 15 miles that it took 11 hours to drift!
The Drop In.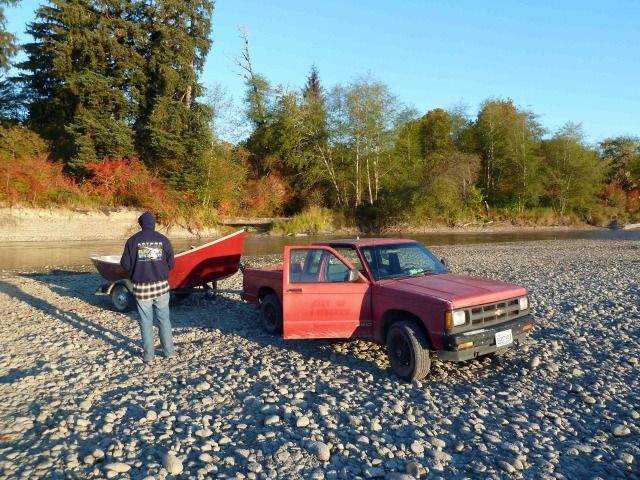 The Mighty Quinalt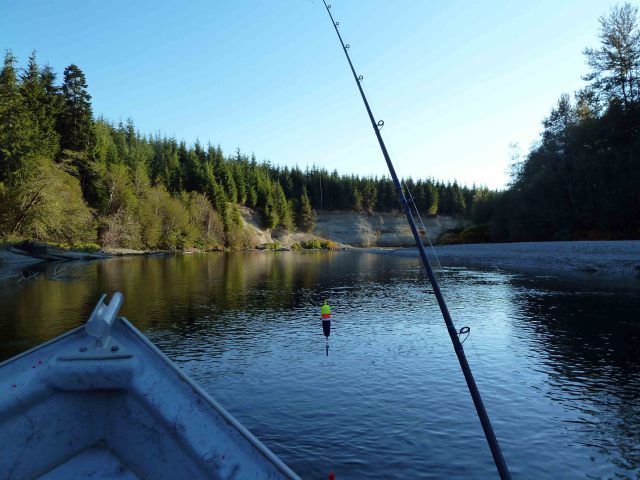 Frank

The salmon could never make it into the river, so we had to pick away at a variety of other fun stuff. Jacks, Steelhead and Cut Throat were the action we got today! We saw 4 larger models, but could not get them to cooperate.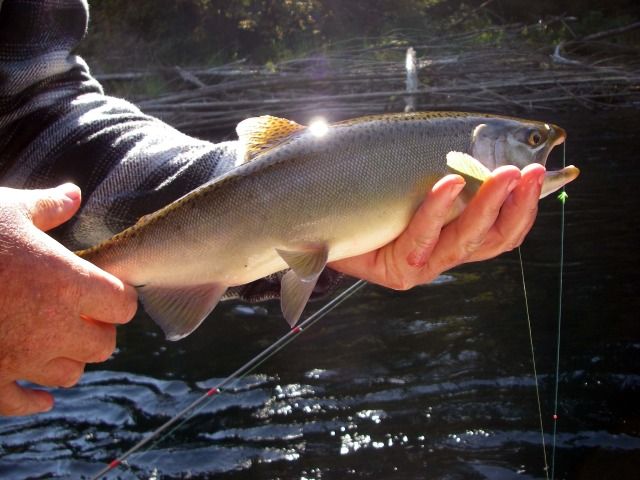 Frank stopped so we could have lunch, but forgot the lunch meat, so we had a liquid lunch!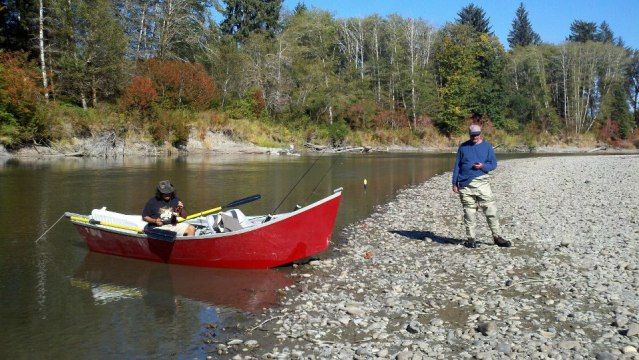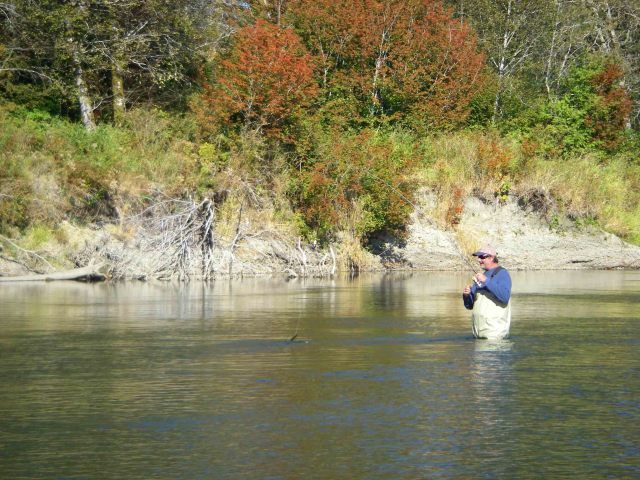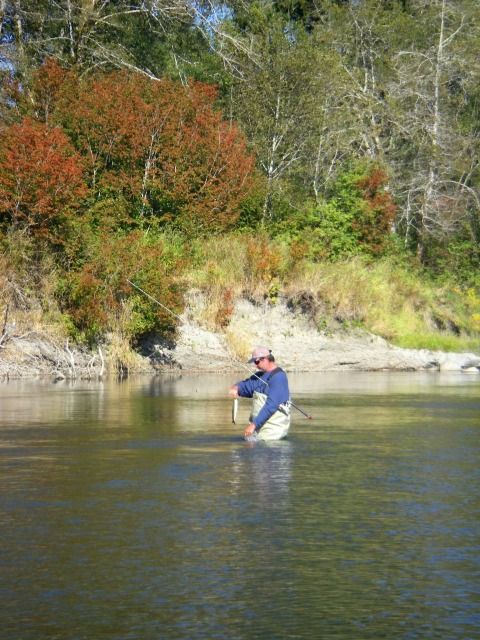 They grow funny looking trees up here.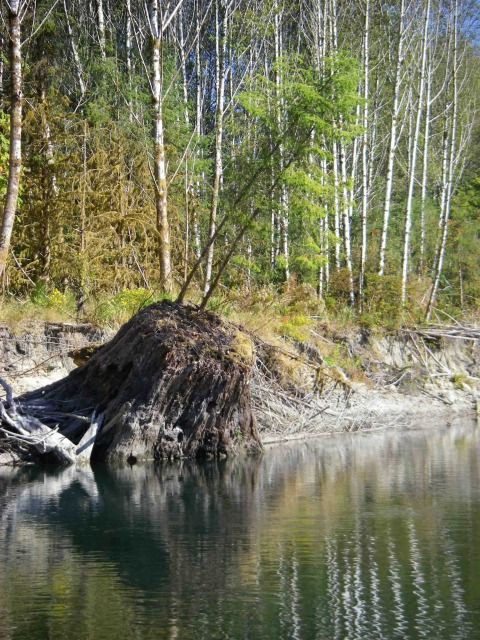 Lots of Jacks.


I even caught a rock in the only hole in that thing!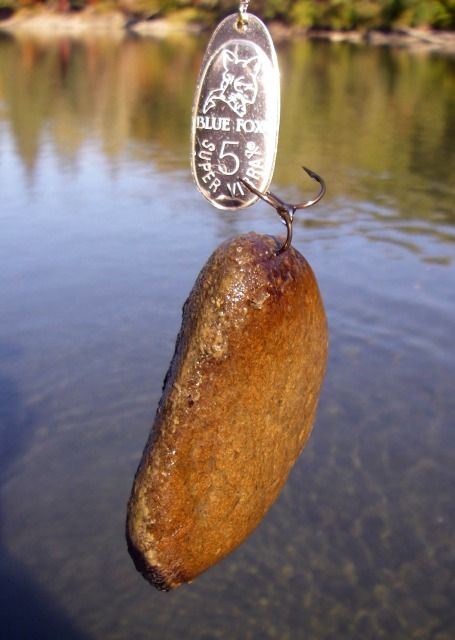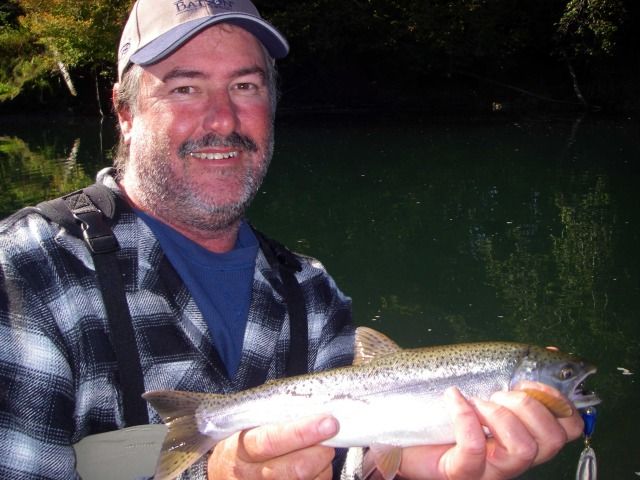 We also used up 3/4 of the eggs we brought! The spinners and flatfish worked, but the eggs were MONEY!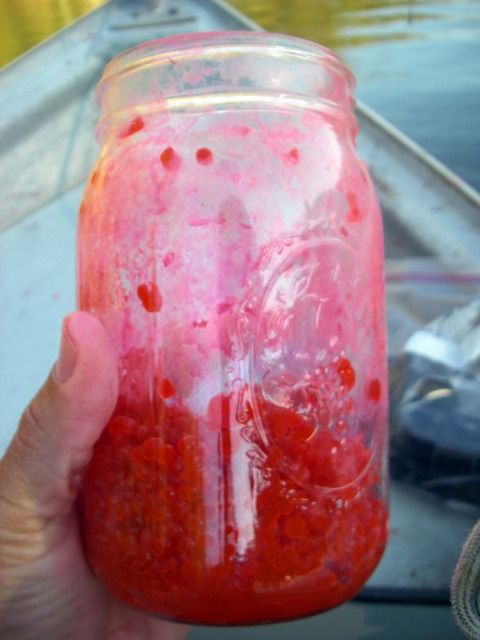 We finally made it just before sunset! Lots of great fishing on the river even though the big biomass did not make it up yet!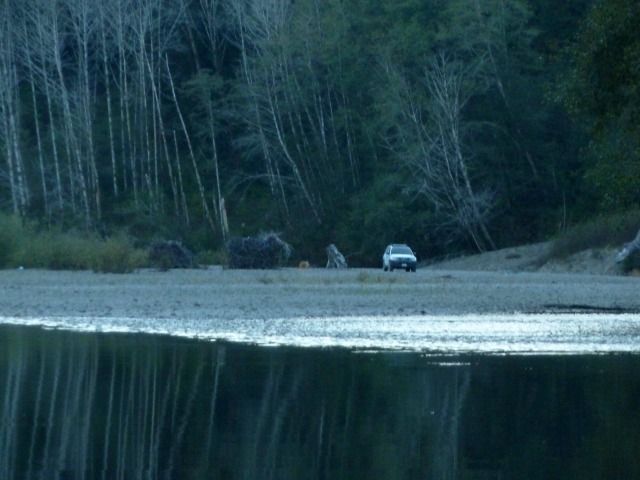 We were hoping to finish up by 1:00pm so we could head back to Ruby Park and catch some red tail, but things happen and it was a blast working the river with a float boat. We got probably 30 fish, but now it was time to hurry on home since we had an early appointment with Karry's buddy, Decker on his boat looking for salmon!
The 3 hour ride back in the dark was brutal, but we made it back just before 11pm.
Day 7
Made it over in time to meet up with Decker over at Karry's pad. Decker is a boss on an Alaskan fishing boat and is hard core! We couldn't have been more stoked to hook up with so many high quality fisherman and first class people!
What a killer sunrise to start the morning!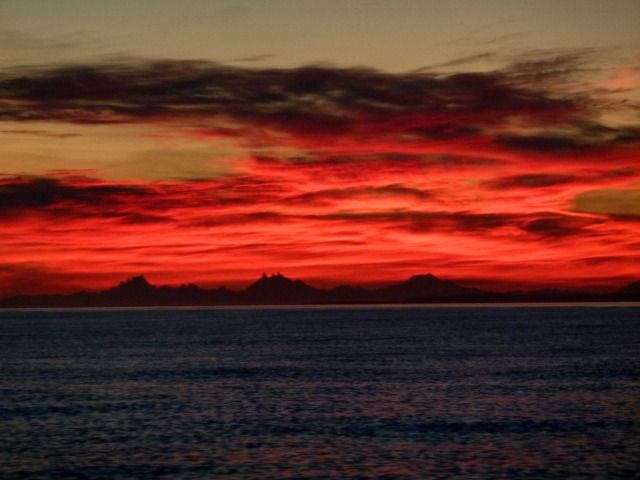 Decker's boat was more Sasquatch friendly!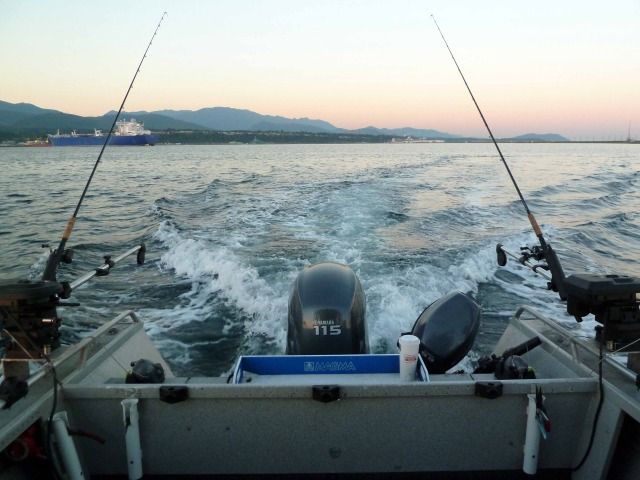 Another slaughter of a morning, before things slowed to a pick. We got our limits of quality salmon once again!!!!
Just some more Ho-Humm Hook jaws.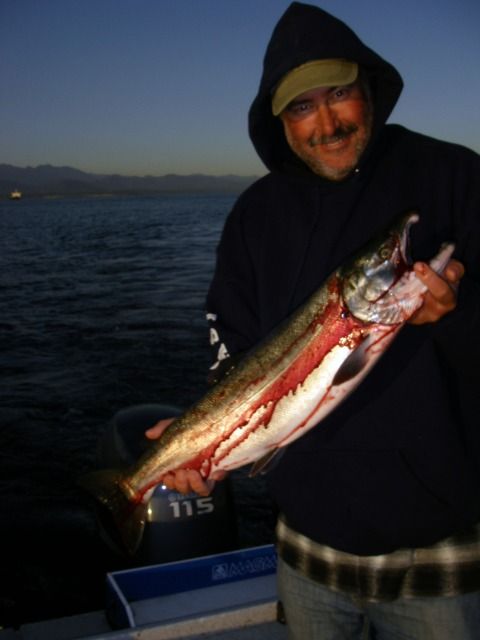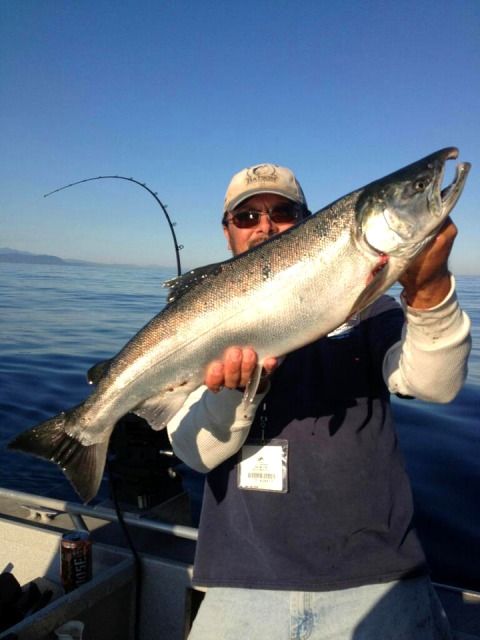 Hen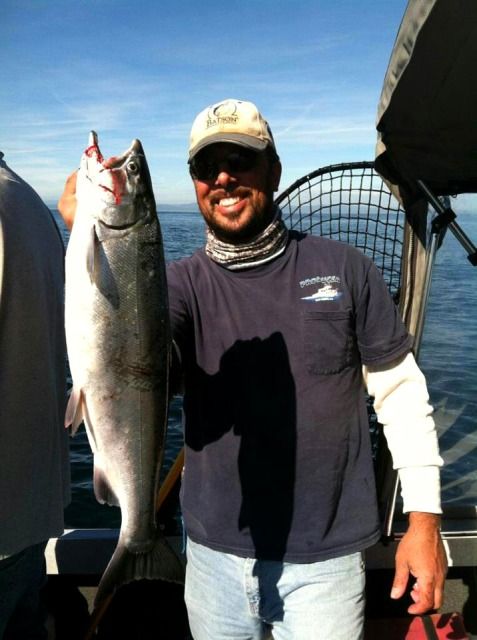 Steve manning his post.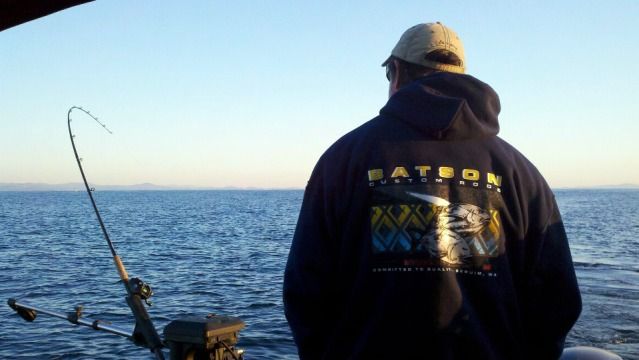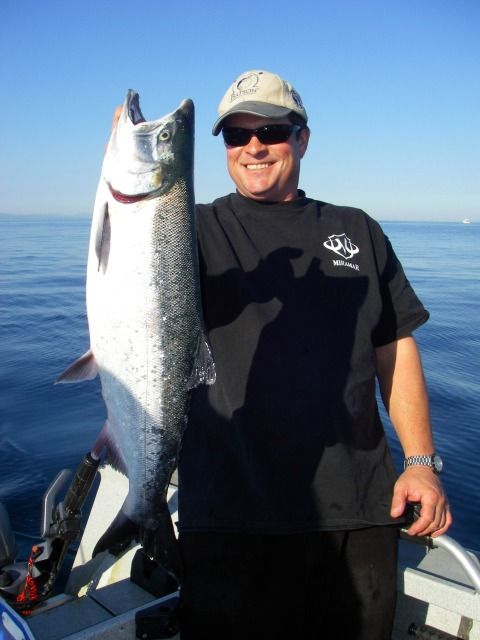 One of the many smolt Kings we caught this week.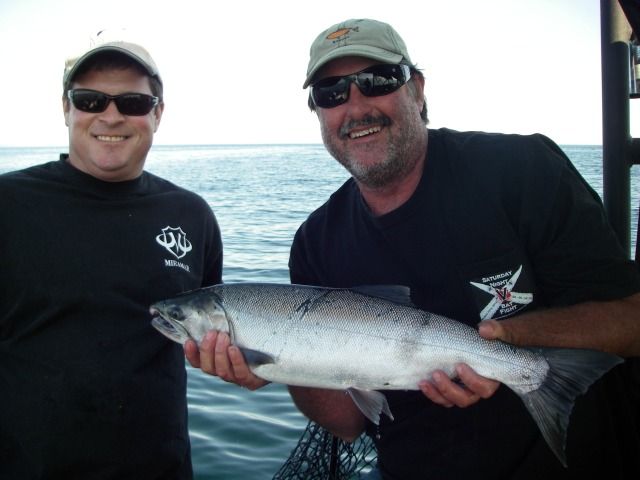 Steve got a sweet chum on our double header and it actually looked big in his hands!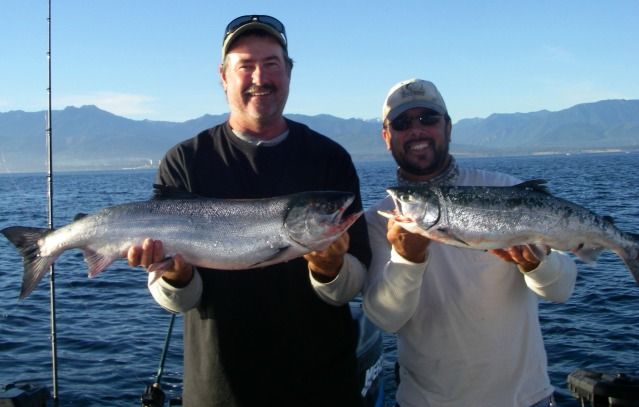 Boats were getting back early from a month in Alaska, so Decker said they probably killed it and got it done early since they weren't due for another week or so.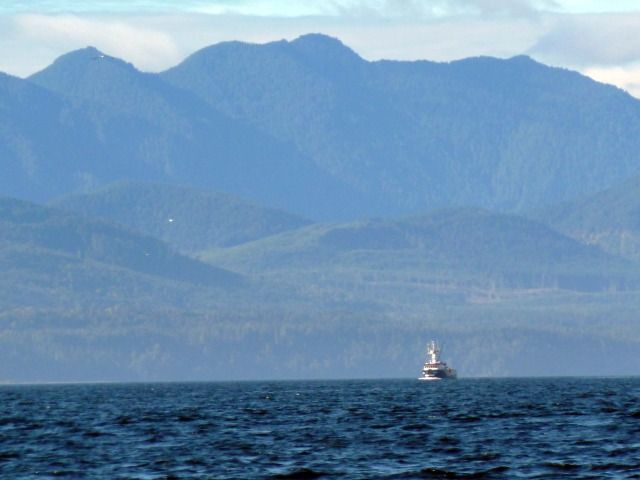 Billy was out there tearing it up also! The man needed some solo time after a hectic work week at the shop!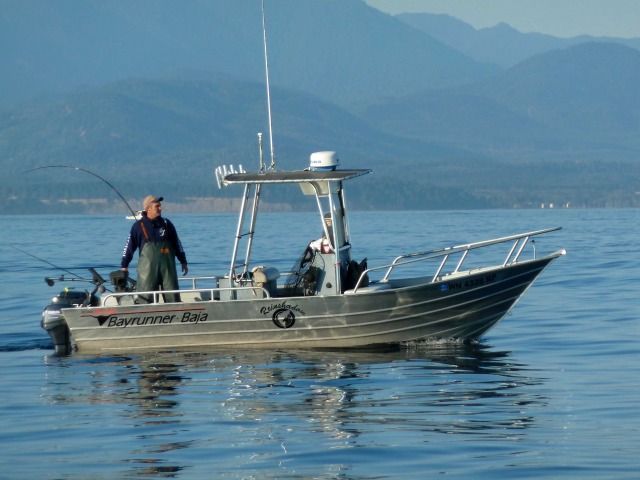 Washington's version of a kayaker…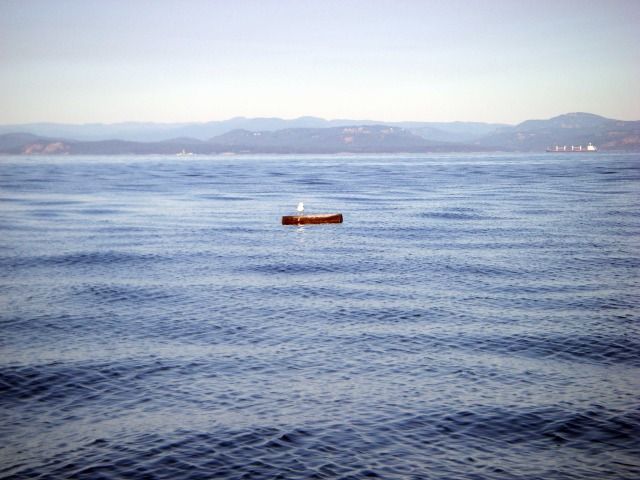 We got another 30 fish and kept our 3 person limit of 6 and headed back. As we were cruising, he saw another Alaskan boat coming in and gave them a warm welcome back!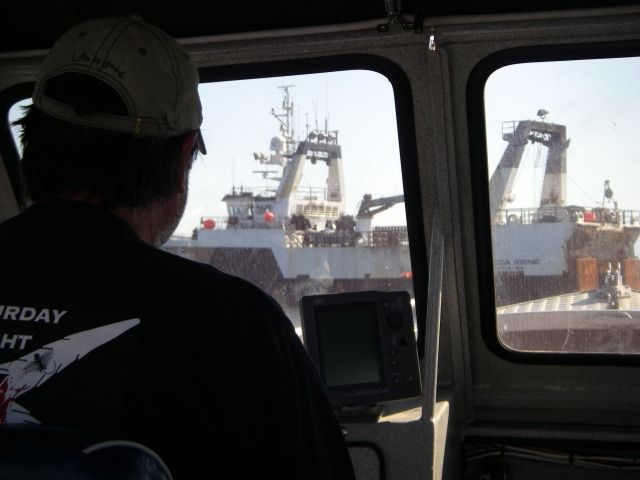 Another limit of fatties for the cooler!

Day 8
Well damn… this report already took too long to write and there were so many other great stories, but alas, our epic North West fishing trip was done and we had to get back to the plane on Day 8.
We even got hooked up at the airport, but I'll leave that for another time.
I just want to say that Billy and Karry are a class act and run a world class rod manufacturing company. These guys hooked us up big time even though they didn't have to go to the lengths they did to do so. The gear we used was unbelievable and we couldn't be more happy with how things turned out especially since the river was at its lowest levels in 30 years.
Bummer we had to go, but it was a smooth return home… except for one of my rods in the rod tube busting from TSA checking it… f#$k…
Oh well, I guess I know what rod I will be buying to replace it now.
If you get a chance to go up there, be sure to stop by Rainshadow Forecast to see the guys and the operation.  Great people in a fishing mecca!